Summer Sailing Camp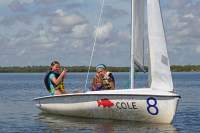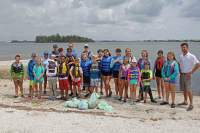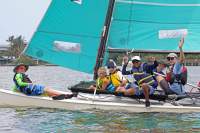 One-Week Summer Sailing Camps
June - July 2020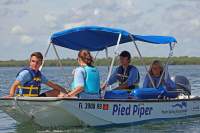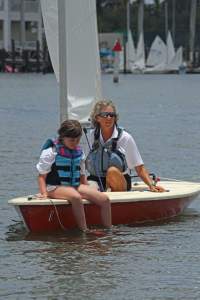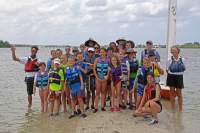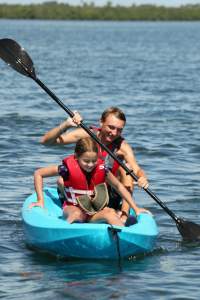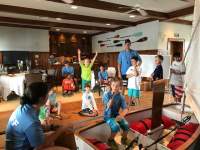 All weeks are FULL - registrations being accepted for WAIT LIST only (refundable payment required).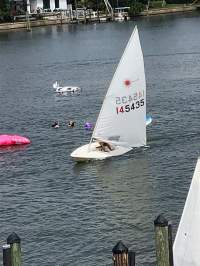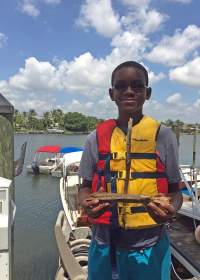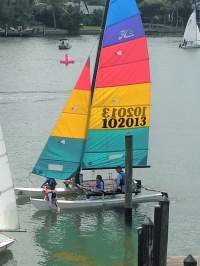 YSF and VBR - a great partnership!
Youth Sailing Foundation (YSF) partners with local venues to offer a Summer Sailing Camp that combines the sailing expertise of YSF with world class facilities. Located on the barrier island, the host sites offer the perfect venues for beginner sailors, with protected coves off the Indian River Lagoon, as well as comfortable indoor space for chalk talks, lunch, and games.
This summer's YSF Camp HQ will be the newly built, state of the art Vero Beach Rowing Boathouse in MacWilliams Park at the east end of the Barber Bridge. We'll still use sails, not oars - but we are grateful and excited to have the opportunity to use this brand new, landmark facility. Thanks to the folks at VBR, our sailing camps can go on as scheduled. Not only is there safe and direct access to the water, but the 5000 sq. ft. air-conditioned classroom space will provide ample room for off-the-water activities and enable us to observe precautionary practices and distancing guidelines.
With weekly enrollment limited to twenty, your child or grandchild will get closely supervised instruction in a safe and fun atmosphere.
Camp is one week, Monday through Friday from 9 AM to 3 PM. Age limit is 8 through 13 yrs.
All participants must pass a swim test administered by YSF's certified instructor on first day of camp.
2020 Camp Schedule
All weeks will be held at the Vero Beach Rowing Club*
310 Acacia Road, Vero Beach, FL 32963
Week 1: June 1-5

FULL

Week 2: June 8-12

FULL

Week 3: June 15-19

FULL

Week 4: June 22-26

FULL

Week 5: July 6-10

FULL

Week 6: July 13-17

FULL

Week 7: July 20-24

FULL

Week 8: July 27-31

FULL
*Sailing camp does not include any rowing - we are simply using the facility as sailing camp HQ for June.
Required Equipment for Camp:
Life jacket (Type III) that fits the child (see Life Jackets below)
Refillable water bottle
Closed-toe shoes (shoes most likely will get wet)
Sunscreen
Swim suit and T-shirt
Change of clothes
Towel
Sunglasses with lanyard
Hat or cap
Backpack to store above gear when not in use
Please write child's name on all of the above items.
Life Jackets
It is required that ALL sailors AT ALL TIMES wear an adequate personal flotation device (PFD – proper name for life jacket). This life jacket (PFD) needs to be a brightly colored, Coast Guard approved, Type III or better with no collar that can get caught on the boat rigging. Type V inflatable life jackets should NOT be used in this course. PFDs are sold by the child's weight. Be sure to purchase the proper size! A whistle should be attached with a line to the life jacket and the child's name should be written on the life jacket.
K-Mart, West Marine, Wal-Mart or dive shops are all good sources for these.