Founding Volunteers Honored at 10th Anniversary Shrimp Boil
Friday, January 25, 2019
Categories: Blog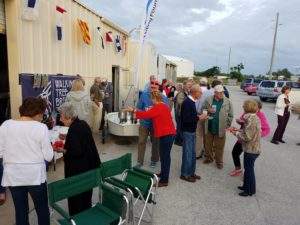 Celebrating our 10th anniversary year, YSF held its annual Volunteer Appreciation Night last Tuesday evening. Over 100 volunteers and spouses gathered our Vero Beach facility for a shrimp boil and a special celebration honoring seven founding volunteers.
In 2009, Charlie & Chris Pope, Al Ebstein, Varoujan (Pops) Karentz, Greg Gerber, Dan Thomas and Bob Williams, among others, had the vision, dedication and skills to found Youth Sailing Foundation in a corner of the Vero Beach City Marina. These seven individuals remain an integral part of the Foundation's operation ten years later.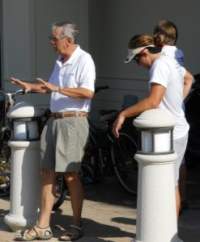 From a modest start, building five wooden 8-foot Opti sailboats for a handful young sailors, YSF has grown to 150 sailors, grades 4-12, participating each week in free sailing instruction. The corps of volunteers who make this happen has grown to more than 60 in number, maintaining a fleet of 85 sailboats and 12 power boats, and serving as instructors and safety officers out on the Lagoon. This faithful crew logs over 5000 volunteer hours a year.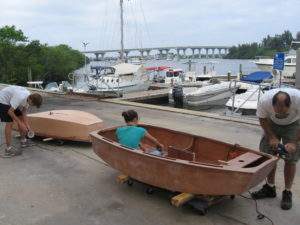 While all volunteers received a YSF polo shirt as a token of thanks, the special honorees were presented with high-tech foul weather jackets with their names embroidered below the YSF logo and signal flag pennants "one" and "zero" denoting ten years of loyal service to the children of Indian River County.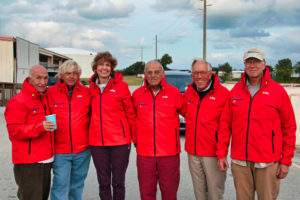 Following the presentation all attendees settled down to enjoy a low country shrimp boil expertly prepared by Board members Beckett Horner and Patrick Hopkins.