Varsity Sailing has kicked off for the 2019-20 season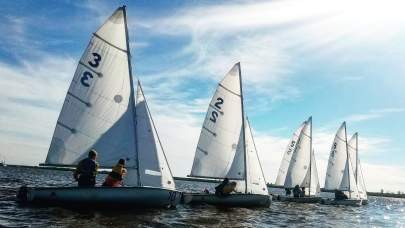 Fourteen varsity sailors, representing Vero Beach High School, local homeschoolers, and Gifford Middle School, set sail for the fall season when practices started last Wednesday. The Varsity Team, beginning its 6th year, trains twice a week, racing 14-ft two-person C420's, and competes in sanctioned regattas all over Florida, including YSF's upcoming Veterans Day regatta on Sunday, November 10.
This year's team is led by Captain Nita Holloway, a senior at VBHS, assisted by sophomore Sydney Ohs.
Many of YSF's varsity sailors also work with the JV program, which is for Indian River County residents grades 7 to 12 who are new to sailing or prefer to sail recreationally, rather than competitively.
Sailors from both squads are gearing up for their first competitive challenges at the end of September in Hollywood, FL and Jensen Beach.
Come join the fun!