About
Founded in 2009 by Charlie & Chris Pope and Varoujan "Pops" Karentz, Youth Sailing Foundation of Indian River County is a not-for-profit 501(c)(3) organization offering free sailing instruction to the children of Indian River County. We believe sailing is an adventure for a lifetime. While learning to sail children learn life skills that will endure. Sailing challenges and builds confidence by taking children outdoors, out of their comfort zone, and into a world of wind and water. They learn to rig and pilot their own sailboat on the beautiful Indian River Lagoon in Vero Beach. YSF's success is measured in the competence, discipline, responsibility and leadership skills that blossom in our students. All of this is available to adults who join our rapidly growing adult instruction in larger sailboats. We have over fifty volunteers, and on average eighty-five students participate during the school year.
We are entirely funded through the generosity and support of local individuals, businesses and foundations. We have grown from a handful of 8 foot Opti prams to a fleet of over sixty sailboats and ten chase and safety boats. We have specially configured pontoon boat that serves as a combination on-water classroom and parent viewing stand.
Our Programs and Fleet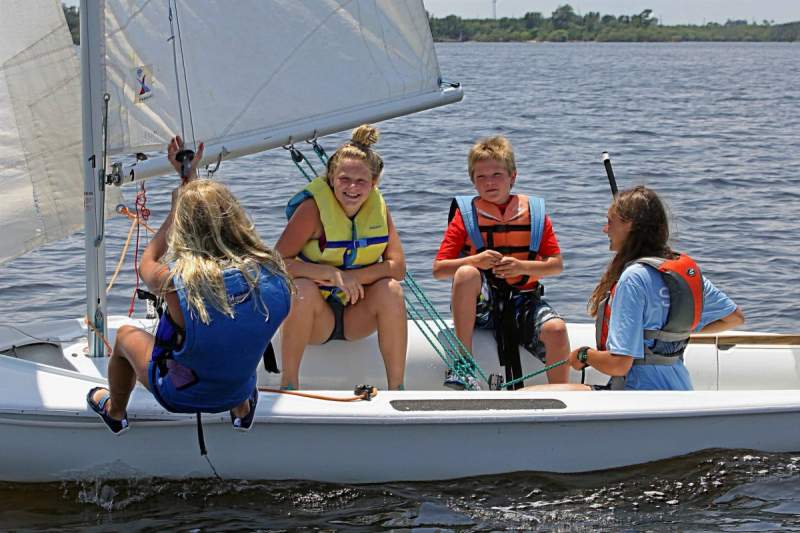 Children 8-14 learn to sail on Saturdays using our fleet of thirty-one Opti 8 foot single person prams. Certified U.S. Sailing instructors, aided by volunteers teach safety, basic seamanship, rigging and unrigging, launching, sailing maneuvers, rules of the road and sportsmanship. Beginners sail on Saturday mornings with the more advanced in the afternoon. See Children Sailing page under Sailing for details, registration and application.
High school students sail two-man high performance 12 foot 420's. The 420 is used nationally in high school and collegiate sailing. YSF has a fleet of 19 420's impeccably maintained by our volunteers in our own shops. With tuned rigging and new performance sails YSF strives to provide the very best equipment for our young sailors. Our sailors have responded with increasing proficiency and victories in regattas across the state of Florida. Practice is Wednesday after school and Saturdays. YSF in partnership with Vero Beach High School competes at the varsity level with 8-10 athletes earning varsity letters each year. Indian River Charter School in partnership with YSF offers club sailing. We also have home schooled high school students in the program. See High School Sailing page under Sailing for registration and application.
We offer adult sailing classes and the instructor works with your schedule. We use our fleet of four 12-foot Trinka's (built right here in Vero Beach) and three 19-foot Mariners. Classes are a total of 12 hours at a cost of $350. Safety, seamanship, rigging and unrigging, launching, sail handling and maneuvers and teamwork are taught in a relaxed atmosphere. The tuition is used to help fund YSF's free sailing programs for children and high school students. See Adult Sailing page under Sailing for more details and how to enroll.
Summer camp is held weekly starting in June for eight weeks. Held at the Vero Beach Rowing Club and St. Edward's School. YSF Summer Camp has become a huge hit in Vero Beach and perennially sold out. Classes are Monday through Friday from 9: AM to 3 PM with lunch included. Children learn to sail in the RS Feva in protected coves off the Indian River Lagoon. There is ample time for swimming and other fun shore side activities. In 2022, we hosted our first Opti Race Camp with Coach Roberto Ayala and plan to repeat this program offering in 2023.
Fleet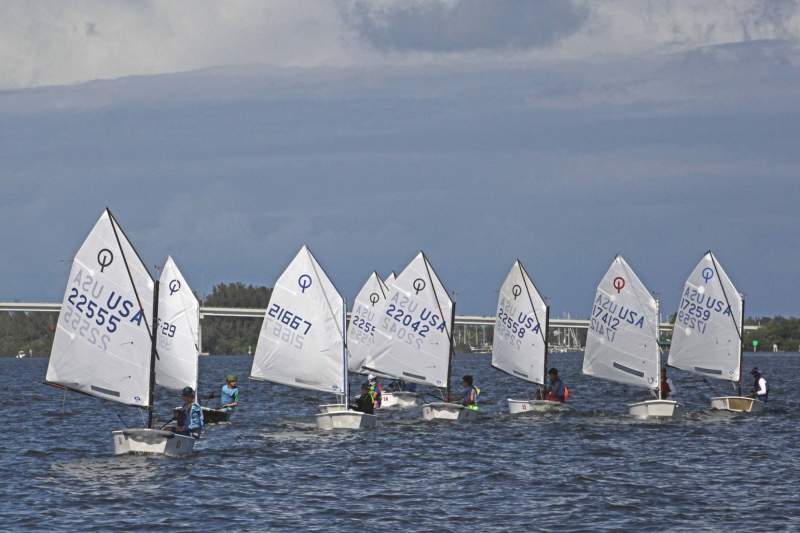 Thirty-one Opti 8-foot prams
Nineteen 420's 4.2 meter (13′9″) foot-crewed performance sloops
8 RS Fevas
Three 19-foot Mariner sloops
Three Sunfish
Four Lasers
One Stur-Dee Cat 14'4″
Chase and safety boats:

One Carolina skiff
Six Boston Whalers
One inflatable dinghy