JV & Varsity Sailing
Fall 2021 registration
JV Sailing Team is for any sailor from 7th grade and up looking to learn how to sail, interested in non-competitive sailing or wants to work towards competitive sailing but is not yet ready for the Varsity Sailing Team due to either skill or grade. The team meets Tuesdays and Fridays from 3:30-6pm and practices on a whole different arrangement of boats depending on skill and interest. There is also open sailing on Saturdays for sailors whose skills are becoming more developed, by invite only. New sailors will sail as a crew with more experienced sailors on Mariners, Hobies, Lasers, Sunfish, Fevas, and C420s.
Varsity Sailing Team practices, trains, and competes with the intensity required to be competitive at High School Sanctioned Regattas and Club 420 Regattas around the state of Florida. The Florida East Coast Series takes place along the Treasure Coast. Sailors are expected to maintain a high grade point average while managing their time time and respecting the values and ethics of our sport. In order to accomplish these goals, YSF requires a strong commitment from individual sailors and parents alike.
The team practices on the C420, a double-handed boat that encourages teamwork and sportsmanship. The Club 420 is a two person dinghy which forms the base of many local, high school, and collegiate programs in North America. Simple for beginning sailors and yet challenging enough for collegiate champions. The Club 420 offers more learning opportunities than any other double-handed boat.
Varsity meets on Wednesdays and Fridays from 2:30-6pm and has a volunteer requirement; consisting of one to two times a semester to help with the JV Team on Tuesdays. The sailors also have an open practice on Saturdays that is optional with weekend commitment when Regattas are taking place. The team is by invite only and is for sailors from 9th to 12th grade. Sailors are invited to sail from all over the county but have to be in Vero Beach High School or living within the school limits as a home-schooled student, in order to compete at High School Sanctioned events.
For a fully keyboard-accessible alternative to this video, view it in Chrome or on any Android or iOS device, view it in Firefox with the YouTube ALL HTML5 add-on installed, or disable Flash in Internet Explorer.
Speaker 0: it's because, uh, we all came from the sea. We have salt in our blood and our sweat and our tears. We are tied to the ocean. And when we go back to the sea, whether it is to sail or to watch it, we are going back from whence we came.
Speaker 1: What we're developing is a high school sailing team.
Speaker 2: Sailing is so universal. Anybody can do it. They can start from not knowing anything at all, but once they get it, they never want to leave.
Speaker 1: When, when the kids first come from the high school, they haven't experienced a lot on the water. We put them in a boat. We send them out there on their own. Uh, they learn these skills pretty quickly because, because they have to.
Speaker 2: The best part about sailing is the exhilarating feeling of being out on the water. You have total control of the boat. There's no motor, there's no, there's no guide. There's no electronics. It's just full power in your hands and no one can take that away from you.
Speaker 3:Just the whole rush of it all. It's just crazy to be honest.
Speaker 4: When you at your maximum speed, there's really no feeling like it. You're flying across the water and you just feel free and independent.
Speaker 1: This is an opportunity for kids to get on the water, learn how to sail, and then hone their skills into racing.
Speaker 2: It's, it's a priceless feeling mostly because there's nothing that can keep you from doing something like this.
Speaker 1: The kids have a passion for this, they liked to do it and they're willing to put the time in and they will bond with other kids from high schools to participate in our program. They become a team together. They learn together.
Speaker 2: Just in this program, I've met so many people that I probably wouldn't have met if I hadn't been here. And we built such strong relationships. Not only is, uh, being in the boat, but as friends and, uh, doing something that we all like.
Speaker 3: there's no cliques. It doesn't seem like here with the sailing team
Speaker 2: you know, we're all out here. We come from different areas. We come from different places and we just, we started out the same way.
Speaker 3: Once you get out here on the water, you're pretty much like family.
Speaker 2: It's a part of me. It's always going to be a part of me. It's part of everyone here.
Speaker 1: It's the type of sport that, uh, that you'll remember all your life because you gained confidence from doing it. You're a team working together. And uh, for a lot of people it can be a lifetime avocation that they, that they love.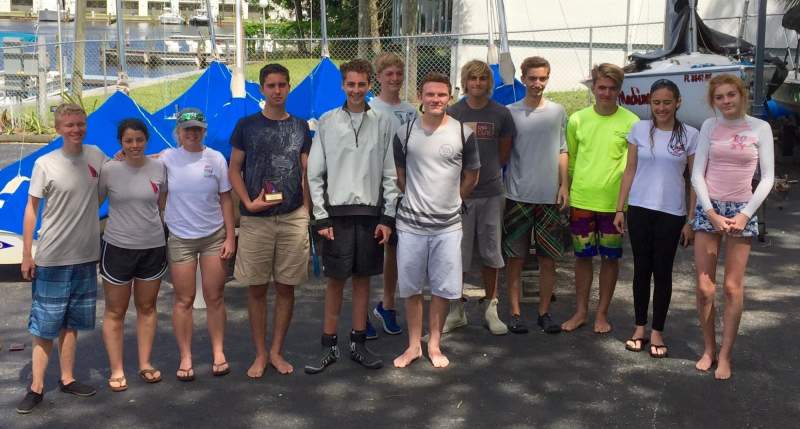 Equipment Required to Participate in High School Sailing Program:
Properly fitting life jacket (see information below)
Closed-toe water shoes (they will get wet)
Refillable water bottle
Sunscreen
Sunglasses with lanyard (so they will not be lost in water)
Hat
Towel
Change of clothes
Backpack or bag to carry the above
Please write your name on all of the above items.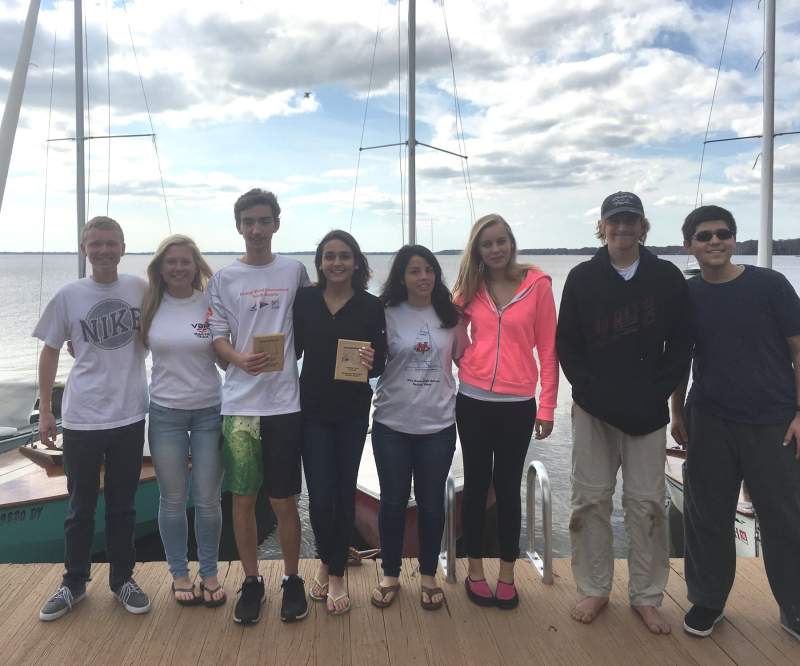 Life Jackets: It is required that ALL sailors AT ALL TIMES wear an adequate PFD (personal flotation device – the proper name for life jacket). This life jacket (PFD) needs to be a brightly colored, Coast Guard approved, Type III or better with no collar that can get caught on the boat rigging. Type V inflatable life jackets should NOT be used in this course. PFDs are sized by user's weight. Be sure to purchase the proper size! A whistle should be attached with a line to the life jacket and your name should be written on the life jacket. Appropriate PFD's are readily available at West Marine, Wal-Mart and dive shops.