Saturday Children's Sailing
Kids in grades 3 to 6, come join our Learn to Sail program for a fun and exciting experience on the beautiful Indian River Lagoon.
Learn to Sail
First time sailors will learn the basics in groups or pairs aboard various sailboats under the close supervision of certified instructors. This allows newcomers to get acquainted with wind and water in a fun, safe, recreational atmosphere. The students will gain confidence in the boat and develop a basic understanding of sailing terms and seamanship.
Middle schoolers can then move up to our JV program, while younger, smaller enthusiasts can develop their skills in the 8-ft Optimist pram, which is sailed and raced all over the world by children ages 8 to 15.
Opti 1
This is the beginning Opti class, which takes place in the morning when the wind tends to be light. At this level they will be taught how to hold and maneuver a tiller and how to tack through the wind with an emphasis on proper form. Sailors will learn about wind direction, velocity, points of sail, and sail trim. They will also be taught how to right a capsized boat and how to retrieve a sailor in man over board drills.
Opti 2
Once students gain confidence in the Opti and can demonstrate basic boat handling skills, they are moved up to the Opti 2 class, where their skills are refined and tuned. At this level they will be enabled to master points of sail and sail trim, and they will continue to build their knowledge and skill, becoming more and more familiar with the boat and its capabilities while sailing in light to medium winds. Once they demonstrate the ability to sail up and downwind, they may progress to Opti 3.
Opti Green Fleet
Sailors who have demonstrated the motivation and skill to get to this level begin to practice with the Shelby Race Team, thereby gaining exposure to more challenging conditions and more accomplished sailors. They are introduced to racing skills and concepts and are taught to sail fast. Skills learned at this level include pointing the boat upwind, holding the boat on a line, acceleration, and buoy rounding. Opti Green Fleet sailors are encouraged to compete, but are not required to do so.
Shelby Race Team
This is a selective group of sailors who travels the Treasure Coast competing in the Opti. The fleet of six state-of-the-art fiberglass boats was donated in memory of longtime YSF supporter David Shelby, and a seasonal fee is charged for use of the boat and more comprehensive instruction. At the racing level, sailors learn the finer details of Opti sailing and are working towards mastering their boat handling skills in all wind conditions. They are taught rules, strategies, tactics, and are expected to travel as a team to local regattas. Team Handbook
The YSF Opti program follows the US Sailing Small Boat Curriculum. Sailors with previous experience in the Opti may join the program by taking a practical with the Sailing Director and then being placed in the appropriate level.
All classes are held on Saturdays during the school year. Children (ages 8-15) must be residents of Indian River County and pass a swim test. The introductory class, Opti 1 and Opti 2 are offered free of charge. Opti 3 and Shelby Race Team practice 2 days a week and involve a nominal fee. Scholarships are available.
Questions? Call our office M-F, 9am to 4pm: 772-492-3243 or contact us anytime at info@ysfirc.org.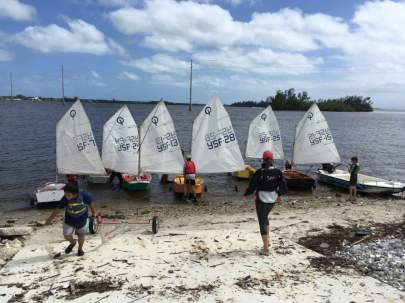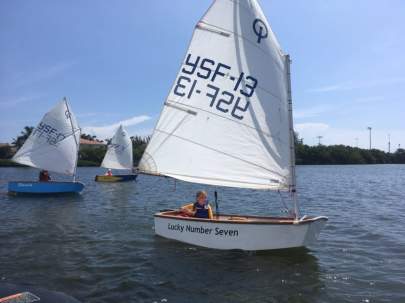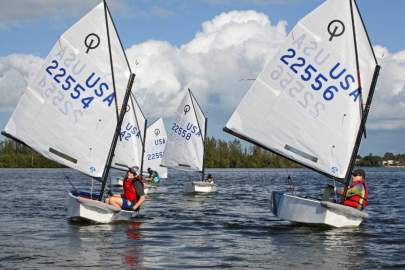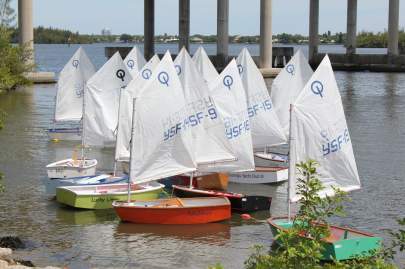 Regsiter for Fall 2021
Grades 3 to 6 only - Students must be 8 years old prior to Sept 1, 2021.
(Grades 7 & up, please check out our JV program )
Enrollment is limited and regular attendance is required.
Equipment required to participate in class:
Closed toe shoes (they will get wet)
Refillable water bottle
Sunscreen
Sunglasses with lanyard (so they will not be lost in water)
Hat
Towel
Change of clothes
Knap sack or bag to carry the above