3rd Annual Veterans Day Regatta sets record in Vero Beach
Thursday, November 14, 2019
It was a "chamber of commerce" day for YSF's 3rd Annual Veterans Day Regatta this past Sunday. Blue skies and a perfect east-northeast breeze provided a beautiful setting for the largest gathering of racing boats Vero Beach has ever seen. YSF sailors swept the top three places in the Opti Gold class and earned an impressive 2nd place out of 27 in the C420 class.
Click for complete regatta results
YSF's elite Shelby Racing Team had a clean sweep of the Opti Gold fleet, with Nick Crull taking top honors followed by Peter Swanson and Michael Ladd.
Twenty-seven 420's and 9 Open Skiffs sailed a long course south of the bridge, while 27 Opti's sailed a shorter triangle course just to its north. About 100 spectators were treated to a close-up view of the Opti's maneuvering at the start just off shore, along with a beautiful panoramic view of the larger fleet across the lagoon.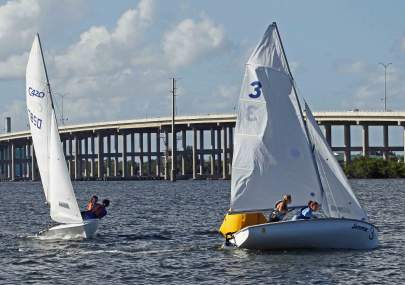 The 420 fleet completed five races over the 2-mile triangle course. Race starts were exciting with dozens of boats maneuvering in close quarters at high speeds to gain a favorable position on the line and a flying start at the gun. When all the scores were tallied, skipper Adrian Winkelman and crew Nico Tave of the Clearwater Community Sailing Center took first place, followed closely by YSF's own Mylee Smith and crew Kate Bounassi, who sailed the best regatta of their young careers, leaving 25 boats in their wake.
Hearty thanks to the dozens of YSF volunteers who prepared for weeks, many of whom also helped out on race day on water and on land alike. The Kiwanis Club of Vero-Treasure Coast cooked and served 300 hamburgers and hotdogs to hungry competitors and parents. The scoring team had final results certified and posted within a few minutes of the final race. The entire came off like clockwork with all the young sailors demonstrating incredible sailing skills and seamanship.
As the late afternoon awards ceremony concluded, the atmosphere was celebratory as competitors, parents and volunteers all departed with a well-earned sense of accomplishment after a great event on a beautiful day.
(Photo credits: Wyatt Hyora)